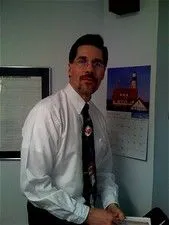 Dr. Phillip B. Doudna is a third generation Chiropractor. In fact, the Doudna family has been aboard the Chiropractic bandwagon since 1937, when Dr. Phil's grandfather began practicing in the small southeastern Ohio town of Caldwell. Since its discovery in 1895, Chiropractic has become the world's largest and fastest growing drugless and non-surgical healing art, and the Doudnas have served the profession for 72 of these 114 years.
Dr. Phil graduated in 1988 from Palmer College of Chiropractic, located in Davenport, Iowa. Named after Dr. Daniel David Palmer, its founder and the Discoverer of Chiropractic, Palmer College is the world's first and largest Chiropractic institution.
Following graduation, Dr. Phil continued at Palmer College of Chiropractic as a Clinical Teaching Extern, serving as a supervising clinician at the Palmer College Public Clinic, and providing instruction in the courses of Chiropractic Adjusting Technique and Radiographic Positioning. For the past twenty years, he has been in private practice at the Grove City Chiropractic Center.
Dr. Phil specializes in a variety of different Chiropractic adjusting techniques which he performs either by hand or by instrument, according to each patient's preference or need. Both methods are safe and gentle, and appropriate for every member of your family, from the youngest to the oldest.
In 2002, Dr. Phil purchased and implemented a computerized Spinal Diagnostic System, the first of its kind in Grove City. This state of the art equipment is utilized to detect areas of nerve disturbance (pinched nerves) which may be causing your pain and dysfunction.This, along with Orthopedic, Neurological, and Radiographic examination, assists Dr. Phil in more accurately determining the cause of your condition.
Dr. Phil's wife Lori serves the Center as office manager. She is a licensed nurse and general x-ray machine operator, and is also certified to provide Drug and Alcohol Testing.
Together, Dr. Phil and Lori strive to provide the Chiropractic care you need in a friendly and relaxed family atmosphere.